It was written I should be loyal to the nightmare of my choice. —
Joseph Conrad, Heart of Darkness
Theo Mercier's (France, 1984) artistic explorations emerge from a universe plagued with visual and formal elements that belong to the world of museology and modernist museographical displays that, after appropriation and reconfiguration, situate themselves again in a museum space in a logic of contemporary production. His works question, among other things, the construction and instability of historical narratives and also signal problems related to contemporary sculpture. In his work, questions revolving around what is shown, how it's shown and in what context are answered through the sophisticated appearance of anthropological and artistic traces from very different eras. These sometimes involve technical issues, research processes and bureaucratic management. Over the last three years, Mercier has devoted his time to visiting several trade and handicraft workshops in different states in Mexico and in Mexico City, hoping to include materials and techniques in his sculpture and stage designs.
Gold War Wall (2017) was made expressly for Museo Experimental el Eco. It consists of three hundred war masks belonging to different moments in time and space throughout the history of humanity and is displayed as a mural in the Daniel Mont gallery.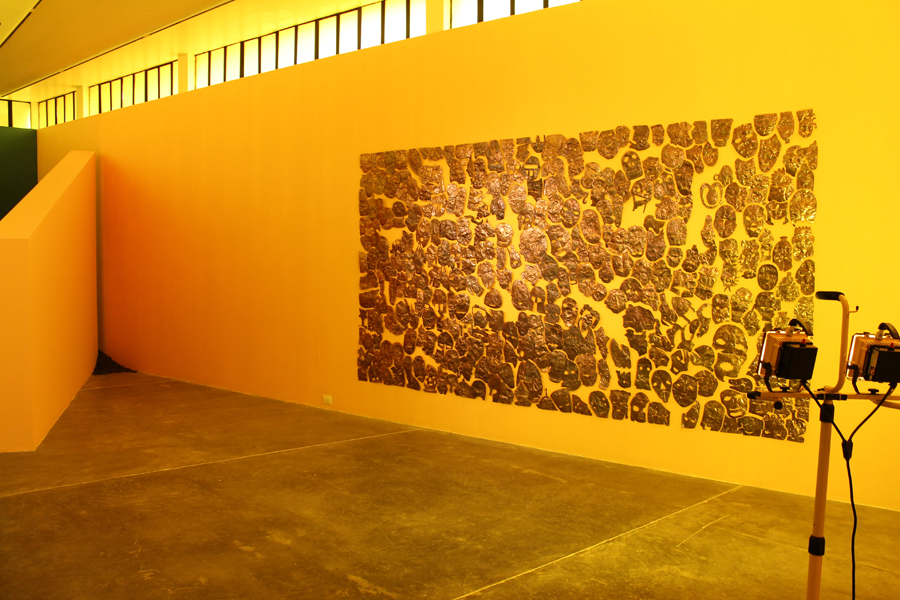 The first sources for this work's process were books on art history, history, and art museums. Different warrior masks or war-related masks (and probably related to rituals as well) were handcopied from these. These drawings transformed each of the masks into schematic lines, to serve as stencils for working with brass at the Taller Corazón de Hojalata workshop in the outskirts of Oaxaca city. The workshop belongs to a family of artisans that usually produce different objects and images in tinplate. They set out to make theses masks alongside the artist's instructions, obtaining a result he was interested in yet adapting to the workshop's own modes of production as well. A key issue was the choice of material—brass, with its gilded tones, evokes the ancient gold masks of Colombia, and it's also a nod to Mathias Goeritz's gold Messages. Hundreds masks that covered the faces of different people escape the "museumization" of war and are reconfigured in a piece that may not seem at all heartening in its collection of dark moments of history, yet shocks us with the beauty of its appearance and the detail of each piece, allowing us to see potential in acting collectively.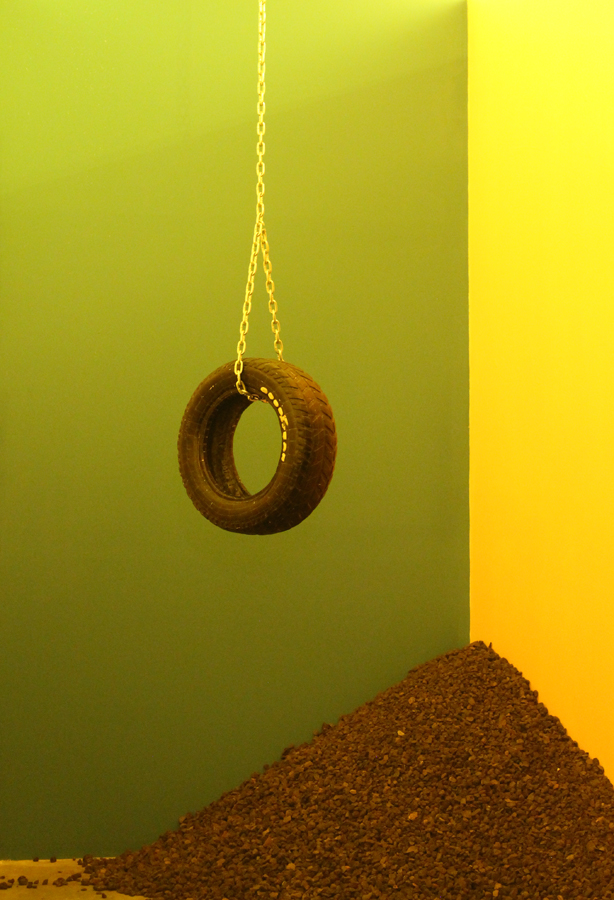 This "scene" brings forth the global character of war today: happening all the time and in all places. The recuperation of ancestral techniques deriving in non-Western aesthetics is also replicated in an obsidian tire –with the American brand clearly and finely engraved– hiding behind a false wall. The wall becoming a sculptural element that with cement and broken glasses on its surface localizes the totality of the project in this particular context. Lastly, the audacious combination of colors coming from a color palette used in books and magazines in the 1960's in France and other places establish a conversation with Modern architecture and museum displays through the use of color and light. These "new vestiges" allude to the aura in the work of art and the relic, and at the same time articulate in the present a sort of simulacrum of the modes of representation and modes of seeing inherited to us by Modernity and that today are fractured.
Through the use of materials and the quotes in history fire is at the center of everything here, as that which destroys and also clears space for the new, together with the question made by the artist: What could be a museum or an exhibition during war time?